Pewter Memorial Wind Chime - A Gift From Heaven
A gift from heaven is an exquisite pewter decorative wind chime. Packaged in a silver box with a midnight blue lining, the top of the wind chime is heart shaped topped with a ribbon. The ribbon and heart edge is engraved: A gift from heaven, I am more than a memory, you will feel our love grow, I am forever your angel, some things you just know. The center of the heart has a filigree angel, and from this hangs a smaller heart. The front of the heart is engraved with the last stanza of the poem: For today, I can share That in Heaven above, God has taken my hand I am complete, I am love. The other side of the heart can be personalized with two lines of text to create a personalized memorial gift. Two chimes hang from the small heart. The complete poem is printed on the enclosed card which can be kept with the wind chime or used as a book mark. This windchime is a loving gift for someone who has lost a loved one. Unlike our Merry Christmas from Heaven ornament, this wind chime will be displayed and enjoyed all year long. Everytime there is a slight breeze the chime will ring as a reminder from heaven that a loved one is with God. 8 in. high, excluding satin ribbon. Gift boxed with poem card.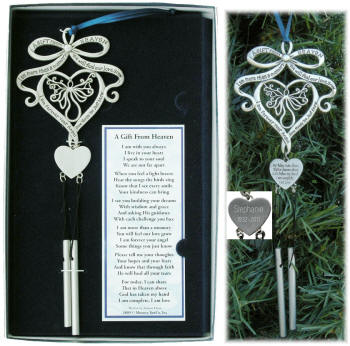 Item#: MOONE05

© 1990 John W. Mooney Jr.