Baby Bearington
;
If you need a baby gift, it must be a Bearington. Beginning as a teddy bear company, the Bearington company has developed well priced, great quality gifts for a newborn baby. Personalized and shipped to you in 24-48 hours with embroidery of baby's name and birth date.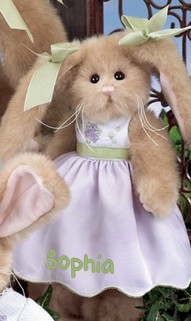 Dee Floral Bunny
Meet Dee! She's our cutest little bunny from Bearington. Her lavender dress has an embroidered bodice and is trimmed in moss green. Matching green bows are in her hair. Dee is the perfect gift for a little girl for Easter, or for your flower girl at your wedding. Her dress Velcros at the back and is easily removable for dress-up play. She is about 10 inches high. We personalize on her dress with an embroidered name and date. Not for children under 3 years of age.
Item #: BC420122
In Stock
Price: $20.00
FREE personalization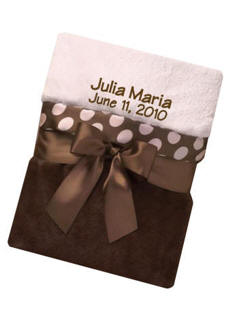 Posh Dots Pink Personalized Crib Blanket
Posh dots blanket is a luxurious faux fur blanket with a satin polka dot trim. You will love the combination of baby pink and dark chocolate. Baby will love the cuddly satin trim in chocolate with pink polka dots. A crib size blanket, it's perfect to put in the crib or to snuggle up with baby on the couch.
Item #: BC198655
In Stock
Price $50.00

On Sale: $20.00
Includes baby's name and birth date embroidered on the edge of the baby blanket as shown.