Maison Chic
;
Baby will love the colors, the textures and the shapes of these Maison Chic baby gifts. Choose from owl blankie, travel pillow, musical toy and blankies.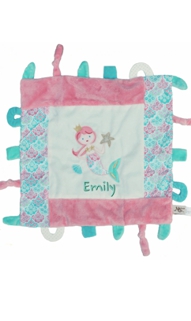 Coral The Mermaid Multifunction Blankie
This adorable soft plush Coral the Mermaid Blankie is made by Maison Chic. This blankie is 15" square and has tabs with varying textures and two teething rings. It can be monogrammed with baby's name and birth date if desired.
Item #: MC80251
In Stock
Price: $25.00
FREE personalization