Animal Print Baby Gifts
;
Cuddly and soft, beautiful quality baby gifts, can be personalized for a wonderful welcome baby gift.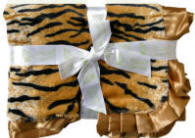 Tiger Faux Fur Baby Blanket
Amazingly soft and cuddly, this tiger print blanket has the distinctive vertical stripes of a tiger. Baby will love the silke smooth satin trimmed edge and the fleece on the back. This tiger print blanket measures 30 in. x 40 in. and makes the perfect personalized baby gift.
Item #: SW80321
In Stock
Price $28.00

On Sale: $20.00
Personalize for $7.00