Personalized Storage Cubes
;
Everyone is on a tear to get organized these days. It's so much easier when there is a place for everything! These storage totes are versatile, easy to use, easy to carry and fold flat when empty. Use them in the car, in the closet, on storage shelves, under a bed. Perfect for storing a child's or pet's toys, for a dorm room, for the rec. room. Use it as a 'memory box' to store all those things you'll want to keep forever. Get one for each of your children, and store things away for them through the years. The zippered lids secure with Velcro. There is a clear plastic label holder on the side, so you can mark what is stored in each container. You really will be organized! Another great idea, if you live in an area prone to hurricanes - pack a cube with those things you know you want to take with you if you have to leave your home in an emergency: copies of precious photographs, copies of legal documents, insurance policies, first aid kit, flashlight, etc. The possibilities are endless! A versatile storage cube that can be used for a wide selection of things. Will work great for the top shelf of your walk in closet, perfect for keeping your pet toys in one place, handy for packing up toys for the baby to take to grandmas, or for packing a small emergency kit.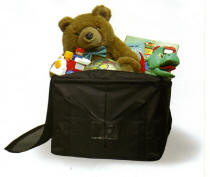 Personalized Storage Cube
Durable storage cubes have so many uses. Available in two different colors, so buy one of each color. These 16 in. x 13 in. storage cubes are a great way to organize a closet or store a child's toys. We can embroider on the top for a practical and useful personalized gift. This cube folds flat for storage when it's not in use.
Item #: ARSBM
In Stock
25.00

On Clearance: $12.00
Personalize for $7.00