What The Fox Says
;
It's hard to believe that the hottest music/dance video sweeping the internet right now has lyrics that sound like a See-'n-Say: "Dog goes woof, cat goes meow.Bird goes tweet, and mouse goes squeak. Cow goes moo. Frog goes croak, and the elephant goes toot." We don't have any "foxes" for sale yet, we do have a menagerie of other cute animals that you will enjoy. See birds, cats, dogs, and a mouse too!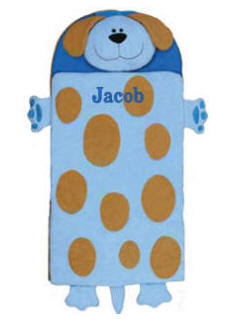 Personalized Stephen Joseph Dog Nap Mat
So cute! This Stephen Joseph blue dog nap mat is generously sized at 52 1/2 in. x 24 3/4 in. (not including the pillow head) and rolls up easily for carrying with an adjustable strap on the back. The nap mat carries like a backpack. The dog design features a smiling dog pillow with floppy brown ears. We personalize this nap mat with the child's name in embroidery on the attached blanket. Machine Washable.
Item #: SJ770117
In Stock
Price: $44.00
Personalize for $7.00