Personalized Wooden Message Plaques
;
Beautiful wooden plaques that can be expertly custom laser etched to make a perfect wood plaque gift for many occasions. We have several sizes and shapes so you should find a wood plaque to meet you needs. Our personalized plaques ship in 48 hours.
Large Personalized Hardwood Plaque
This simple 8 in. x 10 in. rectangular plaque is pre-carved with a delicate border around the edge. Everything inside is up to you. Add your favorite verse or poem, engrave the Love Chapter or Marriage Prayer as a wedding gift, or use as a commemorative plaque. The options are limitless. Ships in 24-48 hours.
Item #: PGZHFR
This item is on backorder.
Price: $40.00
FREE personalization
Made in the USA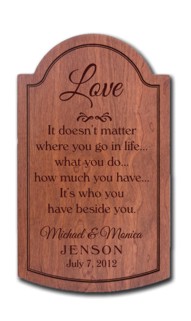 Personalized Carved Lined Border Hardwood Plaque
This exquisite 12 in. x 7 in. cherry plaque features a carved double lined border and a wall mount on back. This cherry plaque can be personalized with a poem, sentiment, award or whatever you would like. We professionally laser etch this plaque making the perfect wall plaque for many gift giving occasion.
Item #: PGZTBCP
This item is on backorder.
Price: $42.00
FREE personalization
Made in the USA