Personalized Jack Daniels ZippoŽ Lighters
;
Genuine Zippo lighters with Jack Daniels logos. Engraved orders ship in 24-48 hrs.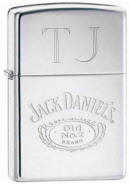 Jack Daniel's Logo Polish Chrome Zippo Lighter
This high polish chrome Zippo Lighter has Jack Daniels logo on the front bottom. It can be personalized on the front top, back top and bottom as desired. Zippo Lighters have a lifetime guarantee.
Item #: 250JD321
In Stock
Price: $26.95
Personalize for $5.00 for up to 20 letters. .20 each additional letter, per location