Anniversary Photo Frames
;
We offer several styles of Anniversary frames for that special Anniversary photo. Personalization may be available to create the perfect memory gift.
Anniversary Photo Frame
An anniversary is a reason for celebration. This adorable frame from My Souls Window pictures two love birds with a tiny red heart. The frame is personalized with the couple's first names and decorated with the poem: Love - and the day ended peacefully because they were together - happy anniversary. A keyhole is sculpted into the back of the frame to hang flush against a wall or you can display on a tabletop with its wooden dowel stand.
Item #: EN4015542
In Stock
Price: $25.00
$5.00 less without personalization
Personalized 25th Wedding Anniversary Frame
We love this cute and fresh design for a 25th anniversary gift. This 25th wedding anniversary frame can be personalized with the couples first names and decorated with a poem and two rings. Gift boxed. Keyhole in back and wooden dowel stand. Frame reads as follows: happy 25th anniversary - when the fireworks fade the stars can be seen. new love lights up a heart. but the warm glow of committed love echoes the grace compassion and peace for which we were all intended.
Item #: EN4015544
In Stock
Price: $25.00
$5.00 less without personalization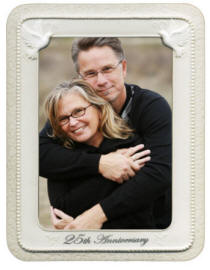 Porcelain 5x7 25th Anniversary Photo Frame
This sculpted porcelain 25th Anniversary Photo Frame from Gund features sculptured doves in the upper corners with an elegant beaded and scroll patterned border. It has a flocked back with a flock shelf support. It can not be wall mounted. Gift boxed.
Item #: GU60552
In Stock
Price: $17.00
Personalization not available for this item