Personalized Camouflage Stockings
;
A selection of Christmas stockings for the outdoors lover. Choose from camouflage, hunting, shooting or fishing. Each Christmas stocking may be personalized with an embroidered name. We love the orange blaze and camo combination.
Camo Christmas Stocking | Unique Mens Christmas Stockings | Mens Gifts
We love the faux fur white top which adds a little cozy feel to this camo print Christmas stocking, and of course is the perfect spot for your name to be embroidered. 19 inches from top to toe, 7 1/2 inches wide. Ready to fill with some fun Christmas stocking stuffers!
Item #: ST09035
Style #: 109
In Stock
Price: $16.00
FREE personalization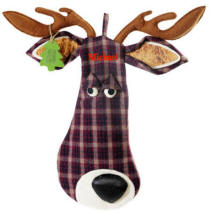 White Tail Deer Christmas Stocking
This adorable white tail deer Christmas stocking will be the focal point of your Christmas display. Enjoy the felt wired antlers, bulging eyes and large black nose. This plaid fabric deer stocking is a fun Christmas stocking for the outdoorsman in the family. The deer stocking has a brown felt back and hangs from the center hook. We will embroider this Christmas stocking with a first name or nick name.
Item #: GS99235
Style #: 147
In Stock
Price: $19.00
FREE personalization