Decorative Bowls for Birdbath or Home
;
Beautiful glass birdbath or decorative kitchen bowls and metal stands. Orders ship in 24-48 hours.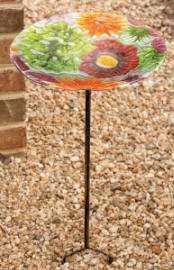 Summer Splash Garden Birdbath Stake
This 18 in. birdbath has a glass bowl with a Summer Splash flower motif. It includes the metal stake. The flowers in the glass are in shads of red, orange and yellow. This birdbath is going to be a focal point in your garden, and is something you and the birds are sure to enjoy.
Item #: EG2GM269
In Stock
Price: $32.00
Personalization not available for this item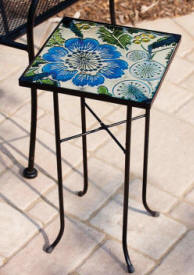 Poppy Paradise Square Garden Table
This beautiful square garden table features an embossed and painted glass top with a poppy paradise motif on a black painted metal frame. This garden table will be a new delight for your outdoor space. Whether you use it as a decorative garden table, as a side table in your sunroom, or as a plant stand, this accent table is both durable and beautiful. This glass garden table makes a wonderful gift. Size: 12 1/2 in. x 12 1/2 in. by 21 in. high
Item #: EG2GM256
In Stock
Price: $33.00
Personalization not available for this item