Personalized Insulated Zippered Lunch Totes
;
Insulated lunch totes come in zesty colors and can be personalized with an embroidered name or initials. Our personalized gift orders ship in 24-48 hours.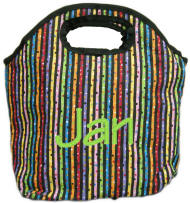 Confetti Stripe Personalized Insulated Lunch Tote
It's a party on a lunch tote! This confetti stripe personalized insulated lunch tote has black stripes with purple, yellow, pink, green, blue and hot pink stripes between, all covered with colorful dots. This lunch tote is easy to clean with a full zip closure. Add an embroidered name or initials to create a fun and personalized insulated lunch tote.
Item #: PPPSM145CF
In Stock
Price $13.00

On Sale: $6.00
Personalize for $7.00