Personalized Jewelry Boxes
;
Beautiful jewelry boxes in a variety of finishes with multiple storage options. Whichever you choose, personalize the top of the jewelry box with her name or initials or monogram to create a truly beautiful personalized jewelry box.
Square Travel Jewelry Box
Ivory faux leather square travel jewelry box has a zippered closure. Packed inside this little gem is a mirror, a drawstring jewelry pouch which is removable, ring rolls that will hold 7 rings, and dividers to make 4 small compartments. The whole box is beautifully handlined in ivory sueded fabric. The zippered closure has a silver tone heart zipper pull
Item #: ME67130A
In Stock
Price: $20.00
Personalize for $5.00
Rio Ivory Glass Top Jewelry Box
Ivory faux leather surrounds the glass on this lift top travel jewelry box with tabbed closure. Take your special things with you when you travel and keep them handy and safe. This travel jewelry case has three open sections and one set of ring rolls ... more than enough storage for your trip. Ivory sueded lining throughout. The clear glass lid can be engraved to create a special gift for any lady in your life, your bridesmaid, your flower girl, or your BFF. Personalize it with her initials, her name, her monogram, or a special message of love. Create a perfect personalized travel jewelry box gift that will be treasured like your friendship.
Item #: ME55330
In Stock
Price: $39.95
FREE personalization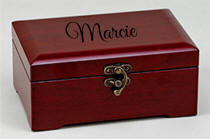 Oslo Hinged Jewelry Box
This Oslo wood keepsake hinged box will perfect for any gift occasion. Its rosewood finish and has a cream lining in both the box and cover. There is a brass colored latch that helps to ensure that the lid of the box stays closed when you want it to be closed. It can be personalized with any desired text of your choice.
Item #: CG69452
In Stock
Price: $30.00
Personalize for $5.00