Personalized Junior Backpacks
;
From Room it Up, many fabulous styles of the junior sized backpack. Made of 100% polyester, they wear as well as they look. Each Junior Backpack from Room it Up has a padded back, and padded shoulder straps for ultimate comfort. There is also a webbed carry handle if you want to carry the backpack sometimes. The backpack front pocket has a zippered opening. Inside this junior backpack there is storage for pens, a pocket for storing small items, and an ID sleeve. Inside the junior backpack, there is an additional small pocket, and a padded bottom. Fabric straps are from the same designer fabric as the backpack. We personalize on the front pocket, with either a name, initials, or a monogram to create the perfect personalized backpack for back to school. Some styles (the styles with the plain panel at the top) have webbed pockets on the outside and a webbed loop tab to hang a lunch box, or other attachments. Dimensions: 12 in. w x 6 in. d x 16 in. high.
Fresh Bouquet Junior Backpack
A fresh bouquet of flowers brightly cover this junior sized lime green girls backpack. This junior sized version of our girls backpack is perfect for kindegarten or preschool. The webbed carry handle makes it easy for mom to carry. We personalize on the front pocket. Two external webbed pockets. Size: 16 in. x12 in. x 6 in
Item #: ROTCDC6217
In Stock
Price: $13.00
Personalize for $7.00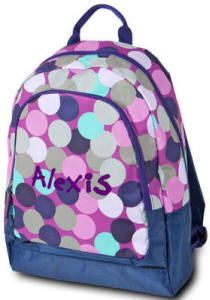 Confetti Dot Junior Backpack
Confetti Dot is all about the colors. Such a cute junior sized version of our popular girls backpack. She'll be thrilled with the colors, the design and the padded shoulder straps. Mom will like the webbed carry handle.
Item #: ROTC6192BD
In Stock
Price: $15.00
Personalize for $7.00