Stephen Joseph Children's Art Aprons
;
Available in four colorful designs, these Children's Craft Aprons from Stephen Joseph feature the fun colorful artwork you've come to expect from Stephen Joseph. They are made from 100% polyester and have a Velcro closure on the back neck and side straps. This child's art apron has 3 front pockets. Not recommend for children under 3 yrs.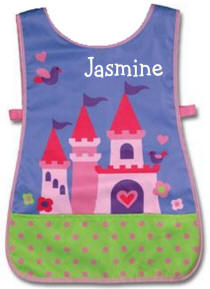 Stephen Joseph Kids Castle Craft Apron
Perfect for school time art, or at home creative projects. She'll love this wonderfully decorated craft apron. With a castle fit for a princess, and three front pockets, she will keep her clothes clean and look good too. We can add her name or a monogram.
Item #: SJ101804
In Stock
Price: $20.00
FREE personalization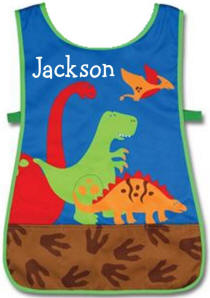 Stephen Joseph Kids Dino Craft Apron
They love to be creative but make such a mess. Save their clothes with this lovely bright and colorful dinosaur apron. Polyester fabric with velcro tabs. We can personalize with a name or initials. Perfect for school art room or craft fun at home. Lightweight screenprinted polyester.
Item #: SJ101859
This item is on backorder.
Price: $20.00
FREE personalization