Personalized Knife Sets from Sarge Knives
;
At Sarge Knives, they understand the importance of toting a quality knife. We are proud to offer this fine selection of personalized gifts sets from Sarge Knives. Made from top-grade stainless steel, the blades remain sharp even after many years of use. Sarge knife sets are designed to endure even the most demanding conditions. The come packaged in wooden boxes that we can expertly laser engrave. Sarge knives are not only great for personal use, they also make an ideal gift for a family member or friend that will be treasured for years to come.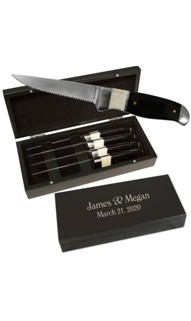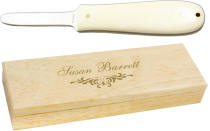 Oyster Knife in Wood Box
All you need to shuck an oyster is a clean dry towel, a good oyster knife, and some old fashioned common sense. This may be the world's best shucking knife, with perfect balance, beauty and blade flex to finesse the most stubborn oyster from its shell. Striking white bone handle, brass pins, and a polished stainless steel blade with a curved tip for maximum leverage. Beautifully presented in a wood box, we can personalize to create a wonderful gift for any oyster lover.
Item #: SK37
In Stock
Price: $50.00
Personalize for $5.00