Personalized Ceramic Piggy Banks
;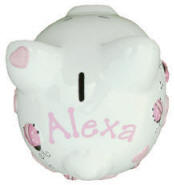 Start your children and grandchildren on the road to good saving habits with these adorable large ceramic piggy banks for boys and girls. They measure approx. 9 in. long x 8 1/4 in. high x 8 in. wide. They feature colorful raised design patterns and we offer them in many design themes. These wonderful large ceramic piggy banks have a large slot at the top and a rubber stopper at the bottom with rubber padded feet. We personalize them with a laser etched painted name on the top of the pig by the tail as shown in the inset. These large personalized ceramic piggy banks make perfect gifts for children for many gift giving occasions. Personalized banks ship in 24-48 hrs.
3D Dinosaur Ceramic Piggy Bank
Remember how much you loved dinosaurs as a child? Capture their imagination and encourage saving with this personalized dinosaur ceramic piggy bank. This large white ceramic bank is decorated with 3D designs of colorful dinosaurs. Drop coins in the top slot, and remove them without breaking the pig through the bottom opening. We personalized with an engraved name across the back of the ceramic pig bank.
Item #: RMCR100DN
In Stock
Price $22.00

On Sale: $15.00
Personalize with child's first name for $5.00