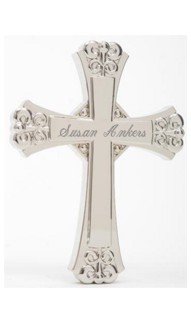 Cross with Wall Hanging Option
This Nickel plated Cross will decorated any room with it's elegant design. The ends of the arms are flared and have an unique "Old World" design on them but the center is smooth, which makes it perfect for engraving. It can be personalized with a couples name or any desired text of your choice. The back of the cross has hardware to allow it to be hung on a wall.
Item #: CG02881
In Stock
Price: $25.00
FREE personalization
Personalized Large Cream Finish Cross
This beautiful large cross features a cream painted finish with laser etched decorative corners on an MDF base. Our personalization options allow you to create a unique wall cross, perfect for your gift giving occasion. Lser etching is available on the top, middle or bottom of the cross as desired with your choice of lettering style and decorative design. Create a unique wall cross to celebrate a marriage, an anniversary, a new home, or a new baby. Select the design that fits your theme.Size 18 in x 12 in.
Item #: PGZPHC32
In Stock
Price: $60.00
FREE personalization
Made in the USA
Personalized Cherry Finish Wooden Beveled Cross
This beautiful, cherry finish cross, features a plain and simple design, accented with a darker stained beveled edge. We can personalize this wood cross to create a beautiful wall cross, personalized just for the recipient. Whether you are giving this gift to celebrate a wedding, an anniversary, a new home, or a birth, the personalization can be done to your specifications. This beveled edge wood cross makes a beautiful religious gift that will be proudly displayed in any home. Size 11 in. x 7 in.
Item #: PGZPFTC01
In Stock
Price: $30.00
FREE personalization
Made in the USA