Mint Nap Mat with Blanket
;
These nap mats by Mint, are excellent quality and roll up for easy carrying. These personalized nap mats look great with a monogram on the outside pocket. Padded and lined with nylon and cotton with a ribbon-trimmed, soft, fleecy blanket. Easily rolls up and easy to carry. Perfect for a mother's day out, sleepover, preschool, or a trip to grandma's.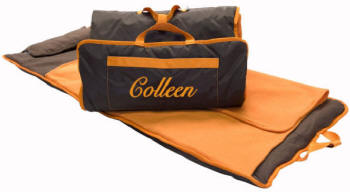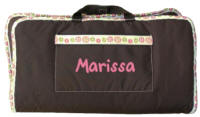 Chocolate Blooms Nap Mat With Pillow
Chocolate brown nap mat with decorative floral trim features a padded mat, removable foam pillow that slides out for cleaning and a quality fleece blanket attached along one side. These nap mats are generously sized at 18 1/2in. x 46in. and roll up easily with a Velcro closure and carrying handles. Personalize her nap mat with a first name or initials on the pocket.
Item #: FC002BCH
In Stock
Price $44.00

On Sale: $30.00
Personalize for $7.00
Made in the USA