Personalized Photo Albums | Engraved Photo Album
;
Photo albums in leather, wood and metal, engraved and shipped in 24-48 hrs. Perfect for a wedding, retirement, anniversary or graduation gift.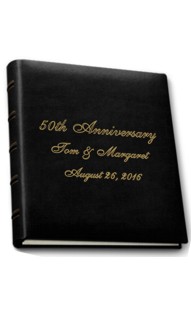 Large Personalized Leather Bound Photo Album
Handcrafted in Maine USA, this exceptional quality leather bound photo album has a padded cover and a curved spine. Leather album features gold-embossed accents, slip-in pocket archival pages and acid-free vellum end papers. We engrave in gold on the front cover to create a wonderful personalized gift.
Item #: GL11016
In Stock
Price: $43.00
Personalized for $5.00 up to 20 letters, .20 each additional letter
Made in the USA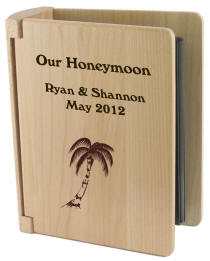 Personalized Maple Photo Album
This wooden photo album is made of maple and holds up to one hundred Vertical 4 in. x 6 in. photos. It can be expertly laser engraved as desired with your choice of fonts and designs for a beautiful personalized photo album to hold your treasured photographs for a lifetime. Our sample shows the album engraved for a honeymoon gift, but the personalization options are endless. Size: 7 1/4 in. h x 5 3/4 in. w x 2 1/4 in.
Item #: LBWHK116
In Stock
Price: $40.00
FREE personalization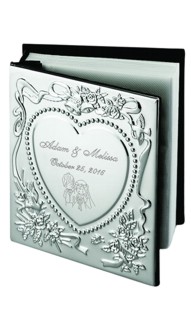 Personalized Sweetheart Wedding Photo Album
A sweet album for a couple of sweethearts. This keepsake wedding photo album features a mirror finish front cover with a wedding bells and heart motif embossed on the metal cover. Add personalization of the couple's names and the wedding date to create a personalized momento of their special day. The front cover is non tarnish so it will stay looking great for many years. Holds 100 4 in. x 6 in. photographs / size: 6 1/2 in. h x 6 in. w
Item #: CG24404
In Stock
Price: $25.00
FREE personalization