Personalized Wine Glasses
;
A plain, every day glass, an Italian crystal wine goblet, or a fun, hand painted wine glass. Each can be engraved to create a personalized wine glass suitable for many occasions.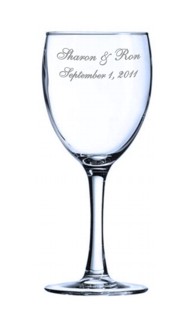 8 1/2 oz Nuance Wine Goblet
Clear wine glass, holds 8 1/2 oz. We will personalize this wine glass to create a personalized wine glass that will be a welcome gift for a wine drinker. A cute idea for your bridesmaids at your wedding, or for a girls get together at your home. Engrave a glass with their name, use as a place setting at your table, and let them keep it as a gift aferwards. We personalize with a name, a monogram style, or a combination of lettering and designs.
Item #: MB44345
In Stock
Price: $6.00
Personalize for $5.00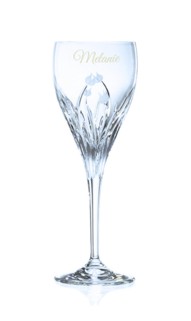 Pisa Personalized Wine Goblet
Bring a little Tuscany to your table. This beautifully cut crystal wine goblet can be professionally engraved with a name or initials to create a personalized gift for any wine lover. Made in Italy, this wine goblet will add beauty and sparkle to your dinner table. Personalize with a family name for a unique wedding gift.
Item #: CG439465
In Stock
Price: $32.00
Personalize for $5.00