Personalized Backpack
;
Crisp and refreshing seersucker fabric backpacks with a front pocket and adjustable straps. Personalize with a name or initials and a design.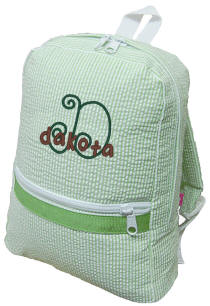 Lime Seersucker Backpack
Crisp and fresh, seersucker will keep you cool and help you look cool! Lime and white stripes are accented with the green ribbon front on the pocket zipper. Machine washable, this backpack will be easy to freshen up. We can personalize this seersucker backpack with an embroidered name or monogram. Size: 11.5 in. x 15 in.
Item #: FC2030909
In Stock
Price: $20.00
Personalize for $7.00