Personalized Lunch Box
;
Personalized lunch boxes fashioned from crisp seersucker fabric and insulated.
Lime Seersucker Lunch Box
Think spring or summer when you see this lime seersucker fabric? Plan on taking a snack to the beach, or maybe to the park. This lunch tote can be filled to the brim with your favorite treats. Insulated liner inside will help keep your food cool. Zippered opening. Front pocket. Lime green carry handle. Personalize it with a name or three initials!
Item #: FC1600909
In Stock
Price $15.00

On Sale: $8.00
Personalize for $7.00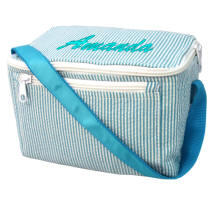 Aqua Seersucker Lunch Box
Pretty aqua and white seersucker fabric lunch box with silver insulated lining. Zip top closure with a front pocket and carrying strap. Perfect for a monogram or a name embroidered in your choice of lettering style and thread color.
Item #: FC1604343
In Stock
Price $15.00

On Sale: $8.00
Personalize for $7.00