Personalized Military ZippoŽ Lighters
;
A Zippo lighter for a patriotic service man or woman. Each branch of service is represented in this personalized Zippo lighters. Personalize with their name and unit number or a message.
Navy Anchor Emblem Brushed Chrome Zippo
No matter where he is serving, this Zippo lighter will be his prized possession. This brushed chrome Zippo has the Navy's Anchor Emblem in gold on the bottom front. It can be engraved with personalization of your choice such as a name or military title on the front top lid and also on the bottom back.
Item #: 280ANC
In Stock
Price: $21.95
Personalize for $5.00 for up to 20 letters. .20 each additional letter, per location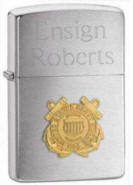 Coast Guard Crest Brush Chrome Zippo Lighter
This brush chrome Zippo Lighter features a gold 3D Coast Guard crest affixed to the bottom front. It can be personalized of the front top, back top and bottom as desired. Zippo Lighters are made in the USA and have a lifetime guarantee.
Item #: 280CG
In Stock
Price: $21.95
Personalize for $5.00 for up to 20 letters. .20 each additional letter, per location